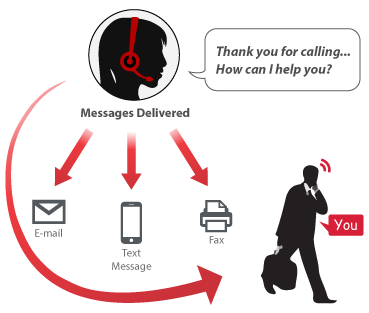 No matter your line of business, you will inevitably miss calls, and those missed calls are missed opportunities. This is why it is so important to ensure that all sales calls especially are answered by a live person. Our answering service can be incorporated with your voicemail system, or our live receptionists can answer your calls 24 hours a day, 7 days a week!
Voicemail Office's flat rate pricing structure is exceptionally competitive, providing rates that are far lower than answering services that charge by the minute. Messages can be sent to various people via email and/or text, and with urgent calls, we can even call you to notify you while you are on the go!
Additionally, we offer live receptionist services that can handle and route all your incoming calls, instead of the need of hiring an in-house operator.
Give us the opportunity to show you what we can do to help your business or organization handle calls both during and after-hours with our FREE 7-day Trial! With no contracts, no setup costs and a free trial, what do you have to lose?
To learn more about our Live Answering Service and/or to order online, please visit our sister Live Answering Network site by clicking here. Answering is our business!