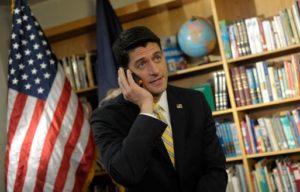 With the incoming Trump presidency, the survival of President Obama's health care legislation is in question, leading activists and concerned citizens on both sides of the issue have taken to leaving messages en masse on U.S. Speaker of the House Paul Ryan's voicemail number.
The Affordable Care Act (ACA), which became commonly referred to as "Obamacare," mandates all Americans to either buy health insurance, take advantage of free health care income-level permitting, or face hefty fines for refusal to participate.
One of the cornerstones of President-elect Donald Trump's campaign has been to "repeal and replace" Obamacare with his own version, but it is yet to be determined what it will look like. In his first interview since being elected, Trump told "60 Minutes" that the guarantee of coverage for people with pre-existing conditions was "one of the strongest assets" of the law, and that he would try to preserve allowing adults to remain on their parents' insurance until the age of 26.
In regards to the concerns being expressed, Republican Speaker of the House Paul Ryan is conducting a phone poll to gauge the public's opinion on the ACA, resulting in both supporters and opponents of the legislation to take to social media to urge people to call in and be heard.
The voicemail numbers being circulated online are (202) 225-0600 and (202) 225-3031, which have been verified as Paul Ryan's Speaker of the House phone number, as well as his congressional office phone number. The local numbers have been flooded with calls to a point of constant busy signals, but those who make it through are prompted to leave a voicemail.
When calling in and pressing 2 to leave a voicemail message on the health care law, a greeting states that "many individuals have serious concerns about the Affordable Care Act." The outgoing announcement also includes favorable acknowledgements of Ryan's House Resolution 3762, the "Restoring Americans' Healthcare Freedom Reconciliation Act" that "dismantles the President's health care law," which Obama vetoed in January.