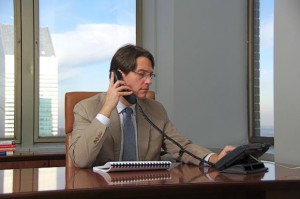 BCS, "The Chartered Institute for IT," reports that David Cargil, council member for the Internet Telephone Service Providers Association, states that PBX is "probably the most simple, flexible model" of telephone communication for small businesses today.
PBX certainly does have its advantages, especially if it is utilized through a hosted PBX service, also known as virtual PBX. Hosted PBX is extremely simplistic, in that one does not need to install or utilize any equipment to operate it. Instead, businesses simply login to an internet webpage with a username and password, which will give them access to their account control board. From there, they can designate the various extensions that they wish to utilize, type in the email accounts that voicemail messages should be delivered to, control times that incoming calls can be forwarded out of the office using find me follow me, view call lists and more.
With modern voicemail such as PBX, business operation is a lot neater and more concise. There is no longer a need to keep bulky fax or answering machine equipment around the office; no extra toner and paper to buy; and, there is no need to check for messages in mutliple locations. Thanks to unified messaging, which comes standard with modern voicemail service, businesses can receive all of their voicemail messages, faxes and email in one place.
PBX is also quite flexible, as Cargill stated. It can be customized to any company's needs. It's like a "one size fits all" product in that no matter the type of business or its number of employees, PBX can be utilized for any purpose. Furthermore, it can take a small, entrepreneurial business and make it's voicemail system sound just as good as a major corporation.
Businesses that are considering upgrading to PBX should keep their eye on remarks from experts such as Cargill to better understand how much this type of technology is endorsed over and above any marketing hype.
For more information, visit https://www.voicemailoffice.com