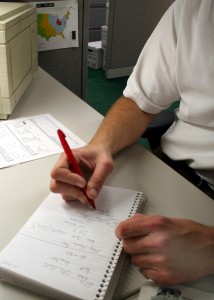 Now that our society has voicemail, it leaves one to wonder how we ever properly ran an office with paper messages. You know, those little slips of paper that the receptionist left on one's desk when they were out of the office or missed a call…
A lot of problems accompanied those paper messages. First of all, sometimes the receptionist wrote the person's name incorrectly, so when the staff member called the number and severely botched the individual's name, the business call already started to go downhill. Sometimes the receptionist would not even remember the caller's name at all, or forgot to ask. Therefore, all that was written on the paper was a phone number with no idea who the call was from or what it entailed.
Then, there were those times that the receptionist completely forgot to give the message to the staff member, and therefore, the call was never returned, thus annoying the caller and hurting the company's reputation for customer service. Sometimes, even if the staff member did get the message, their desk was such a mess that the slip of paper got buried quickly under stacks of contracts, reports and what not.
Thankfully, voicemail allowed an individual to receive their own office phone messages in a secure place where they would neither get buried or lost, and the person would always know exactly who the call was from. And now, with the latest innovations in voicemail technology, business professionals can organize their incoming messages even more as unified messaging allows a business to receive voicemail and faxes right in their email inbox. For most voicemail service providers, such as Voicemail Office, this service comes standard with the basic plan. Staff members can also utilize virtual PBX services, which allow calls to be forwarded to one's cell phone while they are away from their desk.
Sure beats paper messages, doesn't it? And most of all, the business reputation is improved because the office is better organized to provide superior customer service.
For more informations on the latest innovations in voicemail, visit https://www.voicemailoffice.com